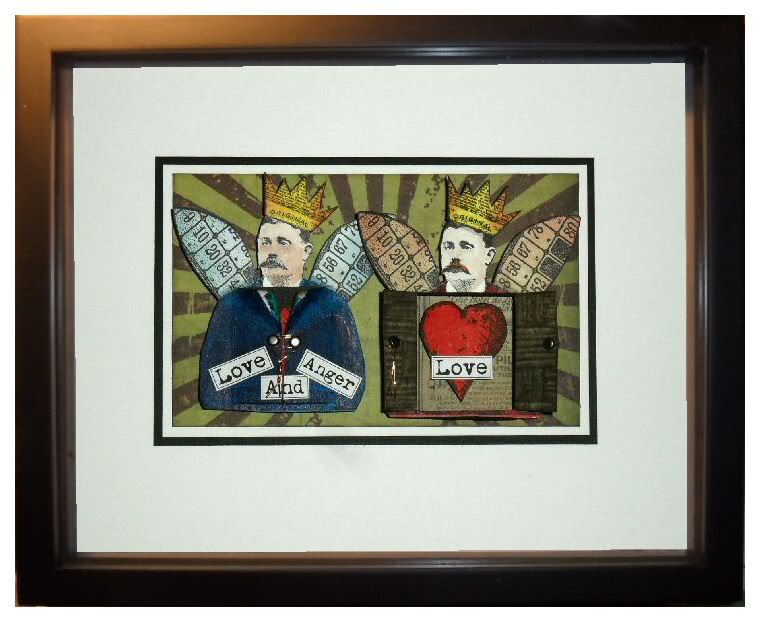 T
his weeks theme on the
Simon Says Stamp and Show Challenge
is "Layered". My piece this week is inspired by one of my favorite songs, Love and Anger by Kate Bush.
The specific part of the lyrics that were running through my mind when I created this piece was:
It lay buried here, it lay deep inside me, it's so deep I don't think that I can speak about it to anyone. It could take me all my life, but it would only take a moment to tell you what I'm feeling.
If you're unfamiliar with the song and you'd like to check it out, you can find it
here
.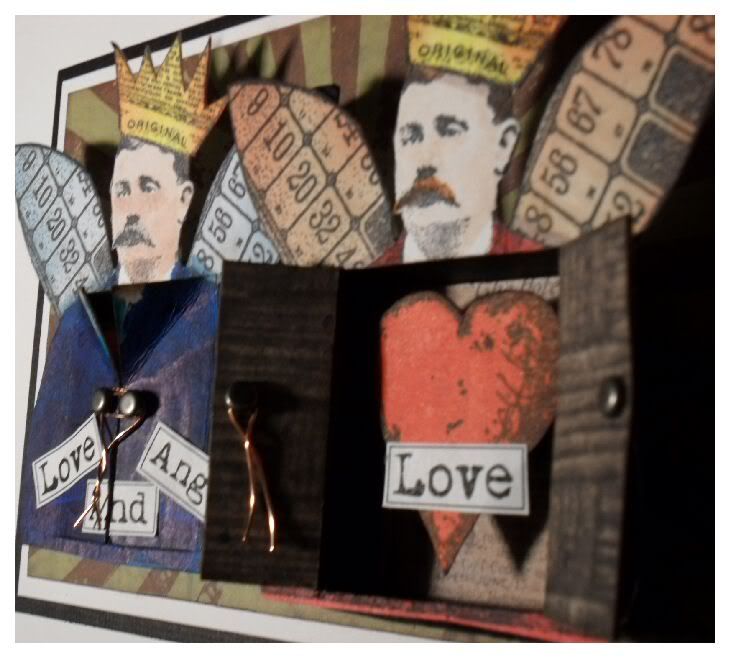 Obviously, given that this week's theme revolves around layers, I wanted to bring a lot of depth and dimension into my project. That probably doesn't show up too well in the main photo, but hopefully the other pictures will give you an idea of the depth and layers that are included.
Ok, a quick skip through what I did...
I started out by stamping and colouring the two men with promarkers, blending Distress Inks onto the edges in places.
Using a craft knife, I cut open the chests to make doors.
I created shallow boxes from black card, which sit behind the doors and hold the hearts. The base of each was covered with a piece of Destinations card.
The hearts were stamped and coloured then mounted on 3d foam.
I used a piece from the Destinations paper stack for the rear side of the doors and added brads as the door handles.
The text was printed on the computer.
The background was a piece from the Retro Grunge paper stack, stamped with Tim Holtz's "rays" stamps, one of my favourites.
Finally the whole piece was matted onto white, then black card.
Luckily I had a deep enough frame to house this piece, it's probably about an inch or so deep in total! I've also included a photo here of the red man with his doors closed, just to show that they worked, and that I did take the time to colour the parts you wouldn't normally see! lol
Supplies I used included:
InLinkz.com
Our ever-generous sponsor
Simon Says Stamp
is offering a $50 gift voucher as the prize again this week, just make something for the challenge and you could the winner! The winner will be chosen at random from those who enter the challenge, so why not give it a try? At the very least why not head over to the
Challenge Blog
to see how the other members of the design team have interpreted this weeks theme! :)