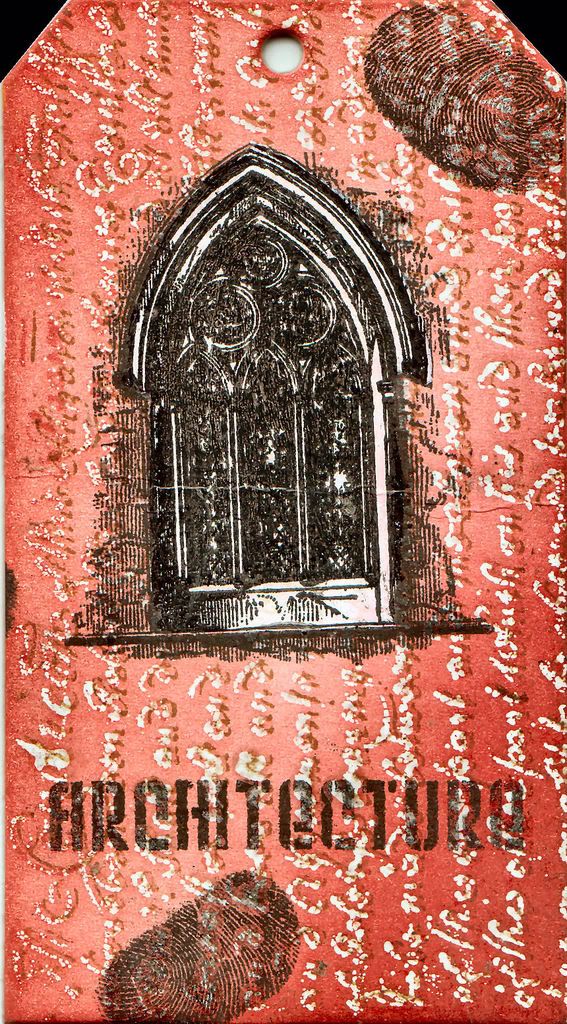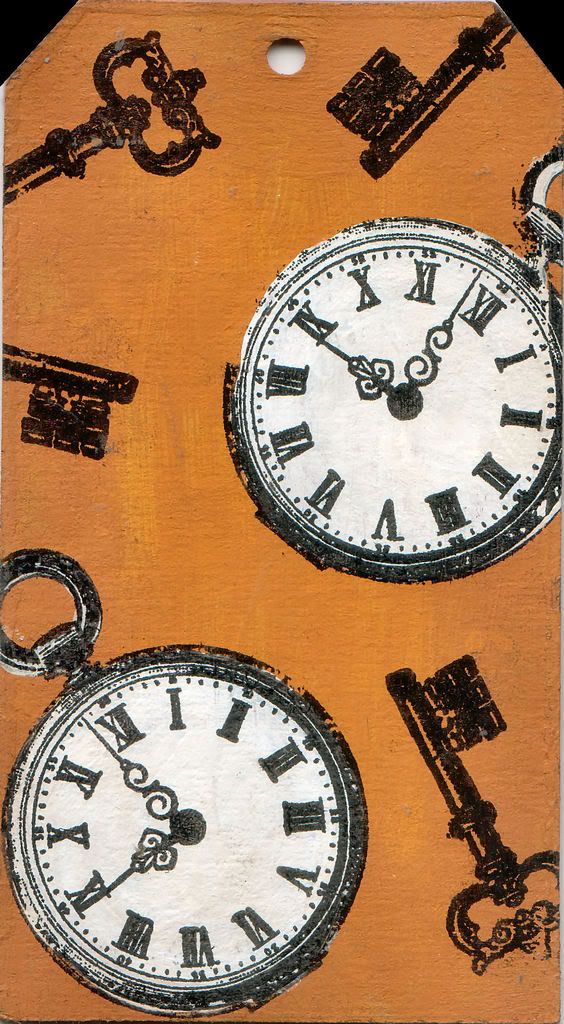 This is my first blog post in AGES so I'll dive straight in. I've been busy working with some of the new chipboard shapes from Artistic Stamper. On this large sized tag, I thought I'd have a go with a new technique I've dreamed up for colouring stamped images (at least it's new to me, if someone has claimed this before, I apologise!) I've called it the painted mask technique, and it's been used here on the pocket watches and the gothic arch. Basically it involved stamping your image, then painting it with acrylic paint (either white as I have done here, or in whatever colours suit your image). After painting, you stamp again in the same place, giving a masked effect but with coloured areas that match the stamp exactly (depending on how accurate you are with your stamp position).
The red side - text was stamped and embossed with clear powder. Tag then was coloured with fired brick and aged mahogany distress inks applied with cut'n'dry foam. Brown paper was placed over the tag and it was ironed with a hot dry iron to remove the embossing powder (Tim Holtz's batik technique). Text was stamped again with brushed corduroy distress ink. Arch was stamped with black versafine and dried with heat gun. It was then overpainted with white acrylic paint, dried and restamped. Finally the word Architecture was stamped with black versafine. I added two of natures "free" stamps (the most personal and individual of all!) and I was done.
Mustard side - painted with butterscotch acrylic dabber and edges distressed with brushed cordury pad (doesn't show up well in this scan). Watches and keys stamped with black versafine. Watch over-painted with white acrylic paint then restamped.
I hope you like them! Click on any image to enlarge it.